The Quality Improvement (QI) Department at Johns Hopkins HealthCare (JHHC) is dedicated to providing Employer Health Programs (EHP) members with high quality health care services. The QI department optimizes solutions for our members through monitoring, analyzing, and reporting data, and using this to create and implement strategies for improvement.
Quality Improvement Program Goals
The QI program goals are developed to align the program outcomes to meet regulatory, accreditation, and organizational needs. Given the comprehensive nature of the requirements, JHHC has defined four core QI objectives to which all of the QI programs and initiatives are aligned:
Improve Member Experience
Improve Safety of Clinical Care
Improve Quality of Clinical Care
Improve Quality of Service
Quality Improvement Initiatives
A quality initiative is a focused action that is taken by the health care organization, provider, or practitioner with the goal of improving the quality of health care services, access to care, and member health outcomes. The QI initiatives are identified through analysis of data which include, but are not limited to, the following areas:
Results of HEDIS measures
Member Satisfaction Survey results (CAHPS®)
Quality of Care (QoC) reviews
Provider Satisfaction Survey results
Utilization Management (UM) data
Pharmacy and medical claims data
Member appeal, complaint and grievance data
Provider quality performance data
Agency for Healthcare Research and Quality (AHRQ) Patient Safety Indicator data (provider-level)
CMS Hospital Compare website data
Health Outcomes Survey results
Multiple factors are considered during initiative development to include the prospective impact to members, as well as the likelihood that measurable improvement will occur. Member quality and safety data is analyzed to identify potential quality issues that may occur from individual providers, groups or facilities, and may result in the initiation of clinical quality studies.
Annual Evaluations
Standard measures of clinical quality and customer experience allow individuals to compare health plans and make informed choices when it comes to the right health plan provider for themselves and their families. Two key measure sets are the Healthcare Effectiveness Data and Information Set (HEDIS®) and Consumer Assessment of Healthcare Providers and Systems (CAHPS®). The National Committee for Quality Assurance (NCQA), the leading authority on health plan quality, issues annual ratings for commercial health plans based on HEDIS® performance and CAHPS® scores.
"Commendable" status in 2021 through the National Committee for Quality Assurance (NCQA®)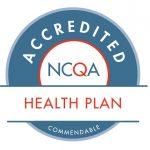 Click here for more information on Health Plan Report Cards.